Salvage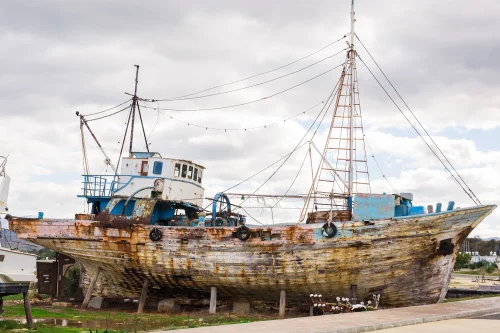 Salvaging ships in the port is an important task in ensuring that the port remains safe and that no damage or injury occurs. Ships may need to be salvaged for various reasons, such as weather conditions, technical problems or accidents. Here are some important aspects to consider when salvaging ships in port.
BST Dintelsas has the right equipment to salvage the ship. This includes things like hoists, cranes, tugs and diving equipment. The equipment must be suitable for the type of vessel to be salvaged and must be safe and reliable. We draw up a plan for salvaging the ship. The plan must take into account the size and weight of the ship, weather conditions and the location of the ship. The plan should also include proper safety procedures to ensure no one is injured during the salvage of the ship.
BST Dintelsas has a qualified team to salvage ships. This includes the ship's crew, port authorities and specialist salvage companies. The team must be well coordinated and all well trained in salvaging ships. This way we prevent damage to the ship during salvaging. Soft cushions and other protective materials are used to prevent damage to the hull and other parts of the ship.
Documentation
BST Dintelsas keeps the correct documentation during the salvage of the ship. This includes things such as keeping track of the time and cost of the salvage, the reason for salvaging the ship and any damage that occurred during the salvage.
Contact us
Do you have a ship that needs to be salvaged for whatever reason? Contact us, we will be happy to help you.